Tips For Workplace Illness Prevention: COVID-19
10/1/2020 (Permalink)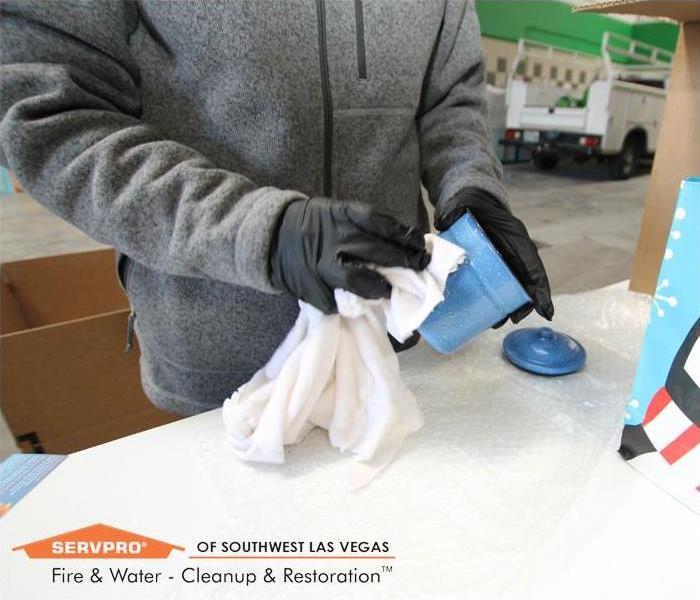 SERVPRO | Maintaining a disinfected and clean work environment for commercial facilities in Las Vegas, NV.
CDC recommendations describe that people should wear masks in all public settings and when around people outside of their household; especially when other social distancing practices are difficult to maintain. Masks may help prevent people who have COVID-19 from spreading the virus to others.
The best way to prevent illness is to avoid being exposed to this virus. Learn how COVID-19 spreads and practice these actions to help prevent the spread of this illness.
How to Prevent Coronavirus Spreading for Businesses
To help prevent the spread of COVID-19, make sure your employees take these actions:
Clean your hands very frequently.
Try washing your hands with soap and water for at least 20 seconds as often as possible. When washing your hands in a sink isn't readily doable, using a hand sanitizer that contains at least 60% alcohol will also be effective for preventing the spread of COVID-19.
Avoid close contact with people who are sick. Distance yourself from others at least 6 feet to maintain a safe range in case of a cough or sneeze.
Wear a mask.
Cover your mouth and nose with a mask when around others, you may still be able to spread the virus even if you don't have any symptoms.
Cough and sneeze into a tissue or your elbow completely covering your nose/mouth.
Cover your cough or sneeze with a tissue, then throw the tissue directly into the trash. Remember to always wash your hands afterwards.
Disinfect surfaces daily.
Clean and disinfect frequently touched objects and surfaces daily throughout the workplace.
Learn how we can help maintain a clean and disinfected workplace for your business through our Las Vegas viral pathogen cleaning program. Certifying local commercial businesses in the Valley every day with our storefront badge that gives customers and employees peace of mind. We use EPA approved disinfectants with our proprietary cleaning procedure that follows CDC guidelines and industry best practices from the IICRC and RIA.
Our process maintains a clean and disinfected work environment for stores, restaurants, and commercial facilities throughout the Las Vegas Valley. Choose SERVPRO of Southwest Las Vegas for all COVID cleaning and restoration needs to ensure a job well done.

Sources:

https://www.cdc.gov/coronavirus/2019-ncov/prevent-getting-sick/prevention.html

https://www.google.com/covid19/